Bollywood actor Kangana Ranaut's quick wit is always refreshing, but some of her recent remarks have caught us by surprise.
In an interview with Indian journalist Rajeev Masand, the Queen star spoke at length about the ugly side of the Hindi film industry and how she inadvertently manages to get caught in the middle of controversy.
In the 40-minute interview, in which she revisited her dispute with Hrithik Roshan among other things, Kangana asked, "Why is he asking me about emails written two years ago? If someone is harassing you, would you wait for two years?"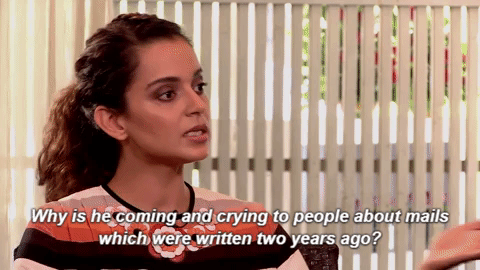 In this instance, it's understandable that Kangana means Hrithik could've spoken sooner if he had problems with her, however, the statement is still problematic in a larger context.
For someone like Kangana who has urged women to speak up about molestation and having had dealt head-on with harassment during her early years in the industry, putting a time-stamp on reporting a crime suggests that the victim's claim is nullified if not reported sooner or when it happened and should automatically be dismissed.
It's distressing when stars of such stature utter statements on grave issues without realising the possible consequences they can have, especially with harassment being a worrisome matter in our society. Harassment does not come with an expiry date and with recent cases, people like Kangana should be careful about the message they are putting across through their statements.
Coincidentally, the Tanu Weds Manu actor said that though she "feared for my life" during the Hrithik battle, she refused to back down and apologise to Hrithik or his father Rakesh Roshan as she believed she did nothing wrong.
People told her not to challenge the industry's influentials as it may get her killed, but she said: "Don't tell me what I should talk about and what I shouldn't talk about."
"I'm going to make sure that this is out there and these things are exposed so other girls are not taken for a ride. It's not just about this film, it's about my entire life and my relationship with my audiences."
However, during the course of the interview, the actor did say some admirable things; when asked about Karan Johar's apology regarding nepotism, the actor said that it was never a 'you vs me' debate, it was a larger view of the subject matter.
"Nepotism is not just an industry issue it is a huge issue all over the country and a lot of people are struggling with it and I think that's why it became such a debate and had the consequences that it had," she told Masand.
"With the country suffering with [nepotism] right now, it doesn't come out as a joke; a set of rich people are making [fun] at the cost of a country where so many of us are poor and struggling with jobs."
She added, "It's not about us, it's about what is right and what is wrong and it [nepotism] is [wrong] regardless of what I think is right and what he thinks is right."